Projects
We provide full service for information technology projects.
creating IT infrastructures
system installation
system development
harware or software migration
our service covers the full lifecycle of the project:
consultancy
planning
installation
operation support
maintenance
Antivirus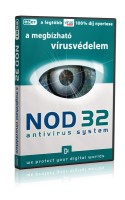 Change for the best protection!
The NOD32 antivirus package has won many awards for its fast, exact, reliable, low resource need scanning engine and it has been for many years the flagship of antivirus softwares in both speed and detection.
Provides central management and central update reposirory for networks.
We install and configure according to your requirements!
Small and medium companies
Advanced information technology solutions are now available for small and medium companies as well. In recent years the manufacturers have turned towards small and medium businesses by changing their product portfolio.
We help your business in utilizing the new possibilities, in establishing and developing your IT infrastructure.
We know what IT difficulties small and medium organizations have, and we know the working and cost effective methods that can enable your business to use the solutions which are no longer the priviliges of large companies.
Network
Business today requires a modern communication infrastructure.
CIP is able to reliably deliver all necessary services from consultancy and planning to implementation and operation.

implementing passive network (copper and optical cabling, installation of patch panles and connectors)
implementing active network (installation and configuration of switches, bridges, accesspoints, routers)
network integration (planning and implementing the coordinated operation of passive and active network components and client devices )
Software
CIP creates custom made or customized software for your business processes.
Our sofwares are multiuser network products that always meet your unique requirements.
Homepage
We create and operate the homepage that supports your business in both content and appearance.
Your homepage may contain basic information (like introduction, contacts, description of services or products) or may help your business processes with advanced content , in both case we can provide an effective solution.
You can order your company design (logo, business card, brochures) in connection with homepage design if required.